These literary champions are continuing reading efforts in their communities despite COVID-19 by rethinking what it means to gather around a book.

"If you want your children to be intelligent, read them fairy tales.
If you want them to be more intelligent, read them more fairy tales." ― Albert Einstein

Reading is fundamental for growth. It helps us learn about other places, other cultures, and other perspectives. Research shows that reading can help us reduce stress, increase focus, support positive mental health, and even slow the onset of dementia. But the power of reading goes beyond these individual benefits. Books can also gather communities together and help to spark deep, transformative conversations.
The National Endowment for the Arts Big Read is a national program administered by Arts Midwest that helps communities reap the benefits of reading together. Each year, grants are given to organizations around the country who set up creative events and opportunities for their community to read and discuss one book together. Since 2006, more than 1,600 NEA Big Read programs have taken place in every U.S. state.
In a typical year, NEA Big Read programming means gathering in person for discussions and book-inspired events. But, as the coronavirus outbreak put a hold on activities across the world, NEA Big Read organizations were faced with a unique challenge. How do you bring your community together through a book when you can't be actually be together?

Pre-COVID-19, participants take in a Big Read at Hope College in Holland, MI. Photo: Rob Wolcott
A Need, And A Response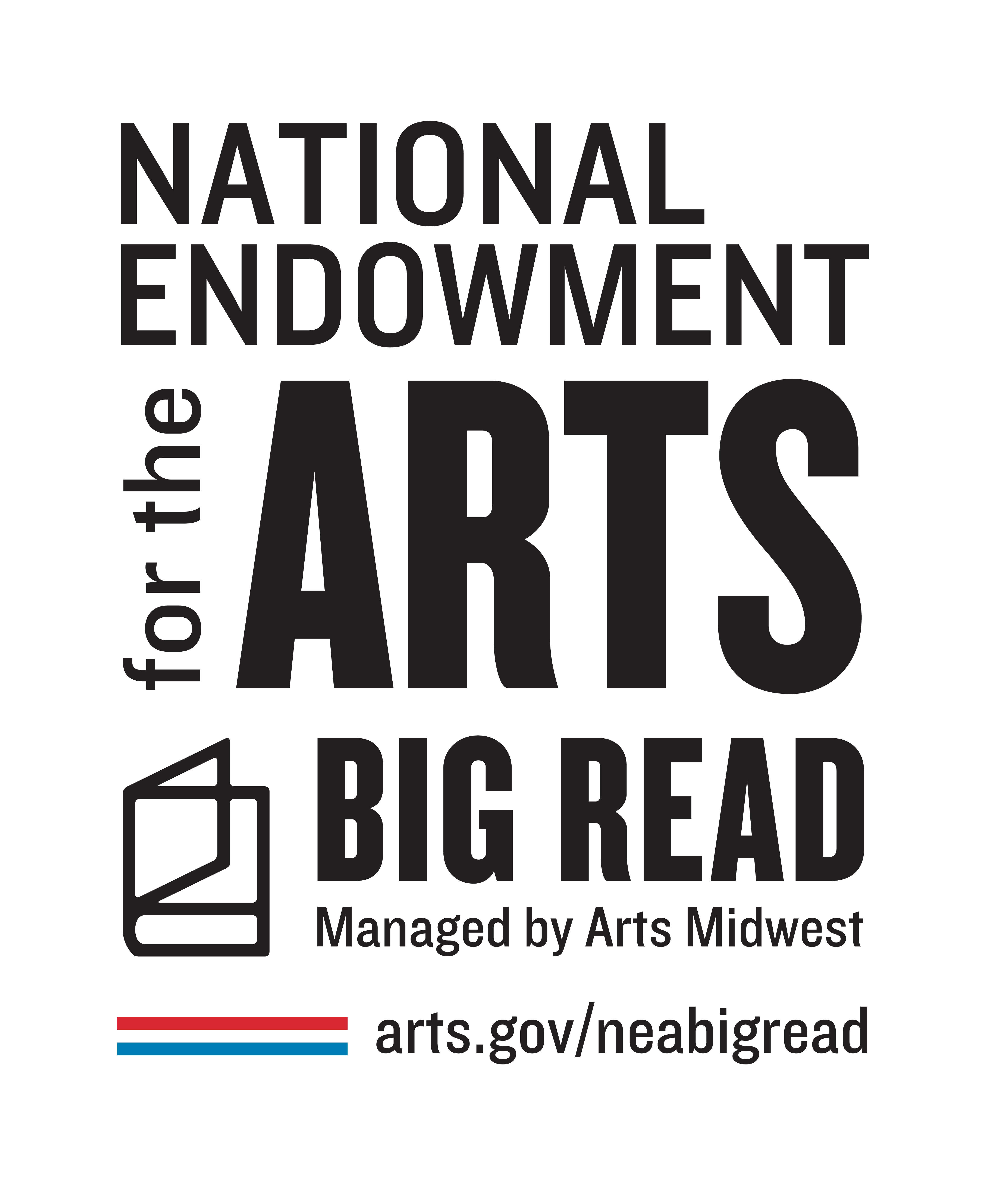 As the pandemic unfolded in early 2020, Amy Stolls, Literary Arts Director at the National Endowment for the Arts, saw that the NEA Big Read might be able to fill a crucial need for communities. "The NEA Big Read was designed to bring people together and to find common ground through a shared reading experience," says Stolls. "A good story or poem can build empathy and help us feel less alone in the world. We suspected that the program would not only continue to accomplish all of that but become invaluable during a time when we needed it most."
Working together, the Arts Endowment and Arts Midwest created a set of new guidelines for grantees in response to COVID-19. By April 2020, Joshua Feist, Director of Grantmaking for Arts Midwest, was tasked with helping 75 Big Read grantees pivot their programming.
"The core of the NEA Big Read is about connecting people using the vehicle of literature," says Feist. "My immediate thought was, what are the ways that we can still make that happen?" Thanks to the new guidelines, organizations were allowed to do events virtually or socially distanced, or to defer their programs. "We allow a lot of freedom and flexibility," explains Feist. "Grantees always welcome to call us to brainstorm ideas. We know that times are hard for everybody." In response, some organizations held off programming until early 2021, while others swiftly moved online.
New Avenues of Communication
One organization forced to make a quick choice about what to do with their NEA Big Read program was the New Haven, Connecticut-based International Festival of Arts and Ideas. An annual festival that brings together world-class artists and thinkers, the Festival team had been planning programming around the poetry book Advice from the Lights by transgender author Stephanie Burt as part of a special 25th anniversary celebration.
When COVID-19 hit, Festival's Community Engagement Manager, Aleta Staton, wasn't sure how to move forward. Events for the Festival usually happen in green and public spaces, full of large crowds. "My initial thought was that we were going to have to shut down and cease operations, just like other community organizations. But then I realized that this project had enormous potential to continue using other avenues of communication, even though we could not meet face to face," she says.
Soon, Staton jumped into action and partnered with the New Haven Pride Center on dozens of virtual programs, discussions, and workshops based on the themes of Advice From The Lights. "There were quite a few voices in the community that wanted to talk about transgender rights, that wanted to talk about transgender people in sports, or wanted to talk about art done by transgender artists, and so we found a way to make all these things happen," says Staton. To kick off their NEA Big Read, the Festival hosted author Stephanie Burt in a special streamed conversation.
The success of her NEA Big Read gives Staton hope for the future. "I hope we continue to reach out to communities that we have not met yet. Right now, everybody's looking for something to do. Everybody's looking for something to get involved in. I think the conversations that I've been a part of and the activities that I've witnessed are really helping people to look at reading in a totally different way," she says.

Stephanie Burt—author of "Advice From The Lights"—in an online conversation with Eric Maroney. Screenshot courtesy of International Festival of Arts & Ideas.
Creating Space For Conversation

Photo: Shake Rag Alley Center for the Arts
Halfway across the country, the Shake Rag Alley Center for the Arts in Mineral Point, Wisconsin was also trying to figure out how to move forward. Sara Lomasz Flesch, the Center's Executive Director, describes how their plans for an NEA Big Read centered on Citizen: An American Lyric by poet Claudia Rankin were thrown for a loop.
"All of our programming was supposed to start in April and the statewide shutdown went into effect in late March," says Lomasz Flesch. "We knew that nothing that we had planned would be able to happen as intended, including Claudia Rankine's keynote. She was booked to fly here to our tiny town of 2,500 people and give the keynote address at our historic opera house and all of that had to be scrapped." The Center made the choice to postpone programming until the fall to figure out next steps.
Citizen: An American Lyric is a powerful book-length poem that interweaves text and media into a portrait of racism in the United States. In the summer, as national protests erupted after the death of George Floyd at the hands of Minneapolis police, the Center saw a need for discussions on how racism manifested in their local community and beyond. Wisconsin is the most segregated state in America, according to a 2019 study.
"We wanted to provide a resource for people looking for a safe and common space to talk about the ideas that are central to Citizen: An American Lyric," says Flesch. "So, on Juneteenth (June 19th) we started a series of Virtual Community Conversations," says Sara. These conversations focused on themes like race and policing, systemic racism in education and healthcare, activism, and local black history.
NEA Big Read conversations and activities carried into the fall, for community members of all ages. "We converted our youth arts and crafts program for K-12 students. It was all take-and-make kits," explains Lomasz Flesch. Their youth catalog became a kit that families could pick up on campus or be sent by mail, along with options for print, video, or Zoom instructions.
These events have kickstarted tough, necessary conversations. That speaks to the power of an NEA Big Read, says Amy Stolls. "The experience of reading a book can connect us with our past and present and help us clear a way toward a hopeful, more empathetic future. And we can deepen that reading experience by talking about a book with others and responding to it in creative ways," Stolls explains.

A screenshot from the Shake Rag Alley Center for the Arts' Big Read website.
Ripple Effects of Reading
Sometimes, the effect of an NEA Big Read on a community isn't fully seen until years afterwards. New Jersey adjunct professor and educator Pam Falcone first participated in a local NEA Big Read in 2016. She was so inspired she took it upon herself to seek more information about the program. "I found out what the goal was – building community through shared reading experience – and I thought this is something I want to be a part of," she says. However, it wasn't until COVID-19 lock downs began that it became clear just how this would happen.

Copies of The Heart is a Lonely Hunter, ready to be sent around the country. Photo: Pam Falcone
In the early weeks of the pandemic, "there was a general dismay and malaise settling in amongst households and communities throughout our nation," Falcone recalls. Amidst these difficulties, she was determined to be a source of encouragement and hope to others. So, she wrote to Joshua Feist at Arts Midwest and asked if she might be able to get a few copies of the book The Heart is a Lonely Hunter by Carson McCullers. Her goal was simple: help connect generations through reading and start a conversation about how we treat people with disabilities.
The Heart is a Lonely Hunter evolves around the story of John Singer, a deaf-mute man, and the people he encounters in a 1930s Georgia mill town. "It captures the beauty of what real lives look and feel like," says Falcone. "A book is like a conduit to something more. You can use it as a bridge, between the story and real experiences. A book can speak to a real-life issue. I think that's what the NEA Big Read is trying to do."
As part of her "mini–Big Read," Falcone sent books to people across the nation, from California, Florida and New Jersey. She says they've now become a "book-reading group" versus a group that reads a book. It's connecting her community, while also hopefully shifting people's perception of disability.
It's a fitting example of how programs like the NEA Big Read can gather us, unite us, and change us. "Reading a book can take us deep into our own reality to help see it anew or help us escape it for a time and drop into someone else's existence," says Amy Stolls. "It can allow us to enter the depths of anger, sadness, fear, and shame until we can't look away, and also of love so that it grows exponentially. That's the beauty and power of the NEA Big Read. During and after the pandemic, it can help us heal as individuals and as a country."
Dig Deeper
Learn more about the International Festival of Art & Ideas' NEA Big Read here.
Learn more about the Shake Rag Alley Center for the Arts' NEA Big Read here.
Words by Sandra Trevino. Read Sandra's work here.
Illustration by Basak Notz. View Basak's work here.
National Endowment for the Arts Big Read is supported by the Arts Endowment in partnership with Arts Midwest.