All too often, rural communities are defined by what they lack rather than what they have. Typically, this is exemplified in limited access to goods and services like broadband internet or high-quality healthcare. Before I arrived in Locust Grove, Oklahoma, I knew this small town of less than 1,500 was rich in one particular thing: creativity. I was visiting to experience the final events of their NEA Big Read, to meet the organizers, to gauge how the program added to the creative economy, and see how it afforded the residents some new and unique creative opportunities.
According to the Oklahoma Historical Society website: A civil war battle is Locust Grove's claim to fame. The historical account reads: "Federal forces under the command of Col. William Weer surprised a group of Confederates camped near Pipe Springs about sunrise July 3, 1862. Confederate Col. James J. Clarkson's demoralized force of three hundred men could not form a battle line. Although gunfire continued all day in the locust thickets, Clarkson surrendered his remaining men. The locust thickets used in this battle provided the town with its name, Locust Grove." The town was officially established in 1912 and nicknamed "Wonder City of the Grand River Valley."
The area's historical roots extend further back, as the land of the Cherokee Nation and once known as "Indian Territory." According to the 2010 US census, the town's demographic includes 32% of people who identify as Native American. With these two facts, it's clear as to why they chose to build an NEA Big Read program around Joy Harjo's How We Became Human: New and Selected Poems: 1975-2001. Joy Harjo is an award-winning Native poet and musician, member of the Mvskoke Nation, and lives close by in Tulsa.
The creative capital in Locust Grove has bourgeoned significantly thanks in large part to the efforts of one woman: Shaun Perkins. She is the founder and director of the Rural Oklahoma Museum of Poetry (ROMP) which was founded in 2012. It's a very small, interactive space where visitors can wander in and write their own poetry with the aid of posted prompts.

The Rural Oklahoma Museum of Poetry. Photo courtesy of OnlyInYourState.com.
For for the NEA Big Read program, Shaun and her fellow organizers offered a month-long series of fifteen programs over the course of a month using Harjo's book as a point of departure. Events included poetry and visual art contests, community book discussions, dramatic interpretations of Harjo's poetry, and a keynote speech from the poet herself. One of the program highlights included a simultaneous reading of almost every poem in Harjo's book. Volunteer reciters stationed themselves along the length of Main Street and slowly came together in the center of the road to block traffic in one direction. Joy Harjo bore witness to the spectacle and described it as one of the coolest things she's seen done with her work.

Volunteer reciters block traffic on Main Street while reading poetry. Photo by Byron Totty Photography.

A motorcyclist passes a group of volunteers reciting poetry on Main Street in Locust Grove, Oklahoma. Photo by Byron Totty Photography.
Most of the NEA Big Read events took place in Wonder City Coffee, a coffee shop and free library owned by Shaun's sister Kelly Palmer. Shaun, Kelly, and their other sister Roxann Yates run the coffee shop, a space that Kelly acquired in 2016 and it has been arts-friendly community hub ever since, even winning the Earl Sneed Business in the Arts Award for 2019. Wonder City Coffee typically hosts free art workshops, Cherokee storytelling presentations, contributes stipends and supplies for area art teachers, and more.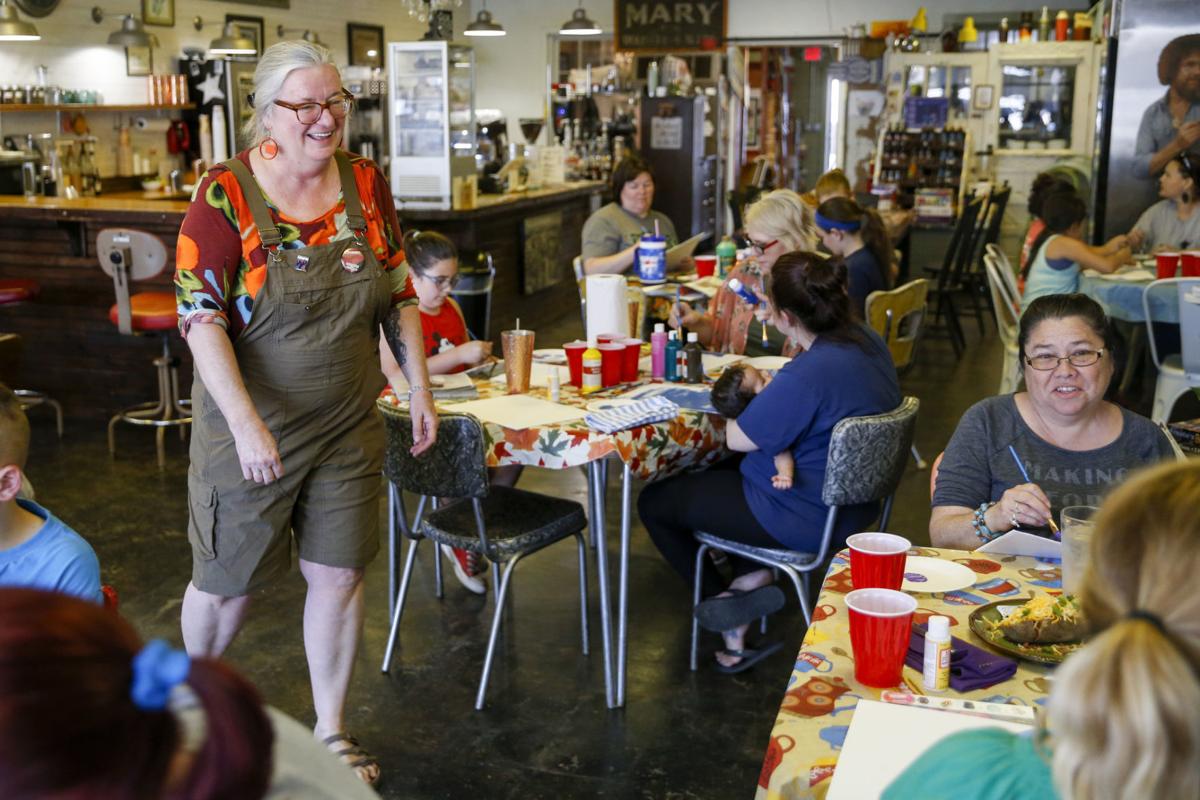 Shaun greeting customers in Wonder City Coffee. Photo courtesy of Ian Maule/Tulsa World.
Just one door down the street, the Locust Grove Arts Alliance hosted Joy Harjo for an intimate book discussion with readers of her book. Art inspired by her book from local high school students adorned the walls of the gallery just outside the meeting room.

Joy Harjo participates in a book discussion at the Locust Grove Arts Alliance. Photo by Byron Totty Photography.

Art inspired by local high school students. Photo by Byron Totty Photography.
To culminate the NEA Big Read, Joy delivered a keynote lecture at the Locust Grove High School and signed copies of her book.

Joy Harjo signs a copy of her book for a student. Photo by Byron Totty Photography.

Joy Harjo signing books at Locust Grove High School. Photo by Byron Totty Photography.
A solid bedrock of creative arts programs already existed in Locust Grove, thanks to Shaun, her sisters, and all the community partners. With the NEA Big Read award, they were able to use the funds to take the engaging events to the next level by bringing Harjo to town and deepening the experience for their audiences. It afforded the residents a unique opportunity to connect with their artistic selves, which in some cases, people didn't even know they had. What follows are some reflections from organizers and community members:
"The highlight of the day for me was watching the expression on Joy's face as we read her poetry aloud on Main Street. I'll never forget her coming up to me as I was reading and our conversation on the power of the kitchen table. That memory will travel with me always."
—Kelly Palmer, owner, Wonder City Coffee
"Participation in the Big Read re-kindled my interest in poetry. One poem in particular – Perhaps the World Ends Here – resonated deeply with me. I keep reading it and have a sense that it is meant to be a launching pad for me. I was very moved by the experience of reading Joy's poetry aloud on Main Street. Just for a few minutes, the busyness of life slowed down, even stopped, while words of love, loss, strength, pain and life rang out."
—Verla Fletcher, Bank of Locust Grove compliance officer
I cannot think of a better way to conclude this post other than showcasing Shaun's own reflections:
"We are a small rural community with few resources and many struggling families, but we also need poetry—and the arts—just like anyone. I started the Rural Oklahoma Museum of Poetry (ROMP) because everyone deserves an experience of poetry. The NEA Big Read allowed ROMP and the Locust Grove Arts Alliance to provide that experience to people of all ages and backgrounds. What great poetry like Joy Harjo's does is give people a voice and a way of seeing the deeper meaning in the activities of everyday life. Poetry keeps us connected, makes us human and brings us together in impactful ways that we can't always articulate but we can definitely feel."
—Shaun Perkins, poet